mobilaTECT - The system
Your benefits
Neat furniture edges without adhesive residues
Economical separating agent consumption thanks to specially designed spray nozzles
Cost savings thanks to low compressed air consumption
Fast separating agent refill: supply from a central point on the system
Safe separating agents make handling, storage and transport easier: VOC and label-free
Clean – safe – efficient
In furniture production, mobilaTECT makes sure that you will get a neatly bonded furniture edge. In addition, our economical mobilaTECT application system consumes up to 70% less separating agent than it would with conventional alcohol-based separating agents. In this way, you will not only eliminate the VOC from your production but also save quite a lot of money. The mobilaTECT separating agents improve occupational health and safety: They do not require any separate HAZMAT storage because they are label-free.
How does the mobilaTECT system work?
Since the system is not based on the use of highly volatile alcohol but on water, our separating agent will stay on the surface with prolonged effect. That is why an extremely thin separating film, which is hardly visible during spraying, is enough. It can be removed effortlessly at the end of the edge-banding system by means of the existing buffing wheels.
Where can the mobilaTECT system be installed?
Our installation pros can install the system on any plant. For older plants where the separating agent system is not linked to the machine computer, our mobilaTECT control unit can easily assume control functions by means of a light sensor and a connected solenoid valve.
For a conventional one-sided edge-banding machine, we recommend three spray points with two dynamic spray nozzles each and one spray nozzle on the pressure roller.
The nozzles are installed on your premises by our trained personnel and adapted to your individual needs. Should you be planning on purchasing a new device, we can of course carry out the conversion after prior consultation on site at the machine manufacturer. In that case, your new complete system will be delivered to you directly.
You need individual advice?
What are the properties of the mobilaTECT separating agents?
The separating agents combine various properties rolled into one:
Preventing glue build-up on the workpiece surface
Cleaning in combination with the buffer unit
Cooling the glue directly after bonding in order to protect downstream tools from adhesions
Forming a slight lubricant film that reduces tool wear and tear and protects light-coloured slab elements from unwanted marks
The combination of these properties makes stocking up on several agents obsolete.
The mobilaTECT central supply supplies your entire system
As the many different agents within the system are not needed any more, the entire system can be refilled centrally at one point by means of the central supply. A double-sided system can be operated with just one central supply without any problems. The economical consumption makes frequent jerrican switches obsolete.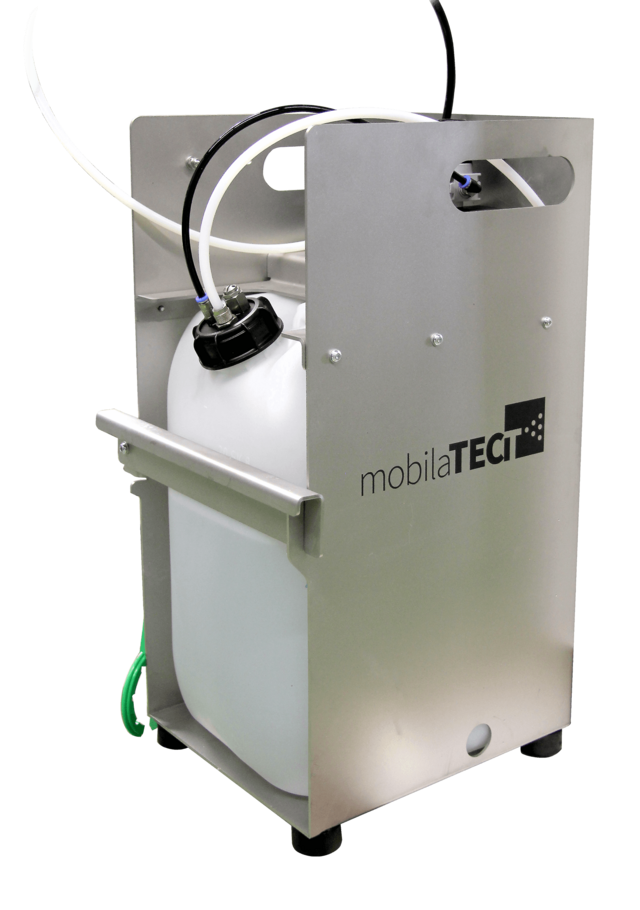 The mobilaTECT spray nozzle
Our dynamic spray nozzles facilitate the required ultra-fine atomization. Our nozzles are based on a tube-in-tube system, with the inner tube delivering our separating agent and the outer tube delivering compressed air at a spray pressure of only 0.5 bar. This way, the separating agent is vaporized on the surface. The nozzles can be adjusted precisely to your requirements and are also very sturdy. This is how we can guarantee you a high system availability.
Cost savings by reducing compressed-air consumption
Reduce your operating costs through economical compressed-air consumption: our spray nozzles operate at a spray pressure of only 0.5 bar. Only the control air requires 6 bar. The control air serves merely to switch the nozzle on or off. Air consumption is minimal.
The economicalness of the nozzles in terms of air consumption helps reduce energy costs and postpone costly new investments in expanding the compressed-air supply.